Meet Dr. Janet Lewis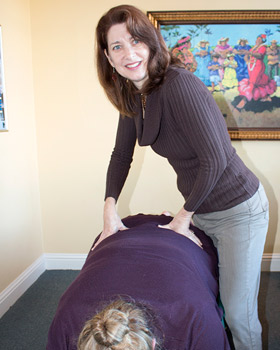 Dr. Janet Lewis (formerly Dr. Duncan) has known Dr. Debby Porter since they were chiropractic students together last century! Together, Dr. Debby and Dr. Janet have grown as chiropractors and look to each other as mentors and great friends.
Discovering A Passion for Chiropractic
Dr. Janet initially earned a Bachelor's degree in Communications in May of 1988 from the University of Central Florida in Orlando. After spending a few years working in a variety of different jobs, she found her calling when reading the Life University motto: To give, to love, to serve. Soon after, she packed up and moved to Georgia to embark on her chiropractic career, attending Life University.
Having grown up receiving chiropractic care, Dr. Janet understood the powerful impact it makes on your health. She graduated Magna Cum Laude from Life University in 1997.
Restoring Wellness to Patients
After discontinuing active practice 3 years after graduation when she had her second child, Dr. Janet spent the following 10 years covering for more than 20 chiropractors in the metro Atlanta area. During this time, she had the tremendous advantage of learning many different techniques. She is proud to have cared for thousands of patients of all ages, from newborns to seniors—all of which had many different conditions. Dr. Janet especially enjoys caring for patients from a wellness perspective.
In addition to traditional chiropractic care, Dr. Janet has had training in extremity adjusting, bringing great relief to many patients with shoulder, elbow and wrist problems.
Outside of the Practice
Dr. Janet has three children, one with Asperger's syndrome, dyspraxia and ADHD. She enjoys staying busy and caring for patients at Sandy Plains Chiropractic, though she also loves her time at Porter Family Chiropractic Center. Dr. Janet enjoys working with kids in and out of the practice, where she is an active volunteer with the Girl Scouts.
Learn more about Dr. Janet by booking your appointment with us at Porter Family Chiropractic Center today! We look forward to meeting you!
---
Dr. Janet Lewis | [Chiropractor Marietta | (770) 427-1889